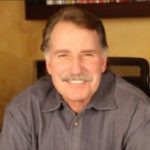 Dr. Kevin Freiberg Returns to Keynote 2020 VISION Conference
Worldwide best-selling author and speaker Dr. Kevin Freiberg – whose highly acclaimed opening keynote presentation "Innovate or Perish" kicked off the 2019 PrecisionAg® VISION Conference – will return in 2020 with another inspirational and thought-provoking kickoff session, "Change is a Choice: Take Five Big Steps That Will Help Your Customers Leverage the Promise of Precision."
Now entering its 4th year, The VISION Conference is the definitive precision agriculture and digital farming conference for North America, providing market-tested insights into the changes in precision and digital agriculture that are set to transform agribusiness over the next 3 to 5 years. A critical window, this 3-to-5-year span is near enough to be actionable, far enough to be strategic – parlaying practical insights that help improve the future of today's agribusinesses.
If your success rests on accurate projections of the continuing rise of precision agriculture and digital farming, The VISION Conference is an event you won't want to miss.
Stay tuned for more details on The VISION Conference in 2020 coming soon, including the agenda release, notification of event registration details, exhibition/sponsorship information, and more. Subscribe here for updates.
Hear From Some of the 2019 VISION Conference Participants
2020 Advisory Board
The VISION Conference benefits from the leadership and support from these progressive leaders
Ernie Chappell
President & Founder
EFC Systems
Allan Fetters
Principal
AGceleration Advisory Service
Neal Horrom
Precision Agriculture Expert
Sid Parks
Senior Product Manager, Agronomy Information Services
GROWMARK, Inc.
Marc Vanacht
Principal
AG Business Consultants
Michael Gomes
VP, Business Development IoT
Topcon Agriculture
Jonah Kolb
Managing Member
Moore & Warner Ag Group, LLC
News and Resources from Meister Media Worldwide's Global Precision Initiative
News and Resources from Meister Media Worldwide's
Global Precision Initiative